Course Home | Schedule | Learning Activities | DIY Tasks | Readings | Blogging | Badges | Real Time Sessions/Archive | Stories
About the BlendKit Course
The BlendKit Course is a set of subject matter neutral, open educational resources related to blended learning and available for self-study or for group use. Periodically, these materials will also be used as the basis for a facilitated open, online course. Get on the mailing list to stay informed about BlendKit developments, including information on the next facilitated cohort.
What Are Badges?
Badges are an alternative form of credentialing popular in informal learning contexts, while some academic institutions have begun to deploy badges within courses/programs as well.  Demonstration of specified learning outcomes are represented visually by a "badge:" a digital image displayed on a website. The use of badges is one manifestation of "gamification" in learning contexts. Some individuals are motivated to earn badges, and the accumulation of badges does make evident to other learners and to facilitators how engaged an individual is with the learning context. While individuals or organizations may create and distribute their own digital images for their learners, proprietary and open source badging platforms have begun to emerge as well. The Mozilla Foundation has established http://openbadges.org as an open source badging platform. Other badging platforms include Purdue University's Open Passport and the freemium service Credly.
Why Do We Use Badges in BlendKit?
We are offering badges in BlendKit as one method for making evident one's progress through the learning activities associated with the course. This may be useful to individuals in tracking their own engagement, but it is also the method the course facilitators will use to determine successful completion of BlendKit. In addition, given the recent growing interest in badges for learning, offering a first-hand experience with badging is an added benefit to BlendKit participants.
If you are a registered BlendKit participant, we would like to be clear that you do not have to earn badges to participate in this open, online course. As described on the learning activities page, we encourage you to participate as much or as little as you want, in a way that meets your needs. This requires no badge involvement.
For those who want to meet the completion standard we've set, you will submit evidence of activity completion within the "Assignments" area of the Canvas learning management system (LMS). In addition to indicating within the Canvas grade book that an activity is "complete," we will also be notifying you via email that you've earned a badge. (Messages will be sent to the address you used to enroll in BlendKit  on Canvas Network. These notification emails will sent from "UCF via Credly.")
Criteria for Earning BlendKit Badges During Cohorts
There are five weekly topics addressed in BlendKit, and there are five badges which may be earned by registered participants for each one of these topics by completing certain activities. Please Note: To receive a badge for these activities, evidence of completion must be submitted via the appropriate "Assignment" area within Canvas.
There is also an overall badge denoting successful completion of BlendKit.
BlendKit Course Completion = Earn at least one badge in each of the five topic areas by the end of BlendKit demonstrating foundational knowledge of blended learning design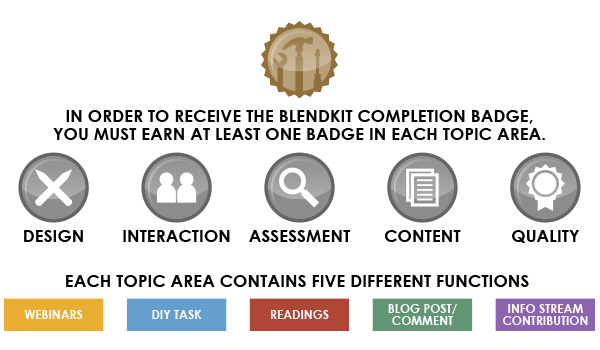 You are encouraged to participate as much as you want whenever you want during the five weeks of BlendKit. However, a maximum of one badge for each of the specified tasks may be claimed for each of the five topical areas. Ultimately, you will determine what value you derive from your participation in BlendKit, but in order to specify a reasonable standard for course completion, at least one activity must be completed for each of the five topic areas in order to receive the course completion badge.
Please note that the collection of five badges displayed below would not meet the criteria for successful completion of BlendKit. This collection indicates three activities completed for the Week 02: Blended Interactions topic, one activity each completed for Week 03: Blended Assessments of Learning and Week 04: Blended Content and Assignments, but there is no activity completion shown for either Week 01: Understanding Blended Learning nor for Week 05: Quality Assurance in Blended Learning. There is nothing wrong with this particular participation pattern. It may have met the needs of this particular participant. It just will not be considered "successful completion" of BlendKit.
By contrast, each of the two collections of badges depicted below would meet the course completion criteria for BlendKit even though the first collection shows fourteen badges plus the course completion badge and the second collection shows only five badges plus the course completion badge. In the second collection, the five badges represent engagement with each of the five topics of BlendKit.
Badging Process
Complete one of the learning activities described above.
Submit the appropriate documentation of the activity via Canvas "Assignments."
Receive email at the email address with which you registered for BlendKit.
Click the Save & Share link in the email in order to "claim" your badge. (If you haven't registered with Credly.com, you will be prompted to do so. Note: It is imperative that you register for Credly with the same email address with which you enrolled in BlendKit on Canvas Network!)
Confirm your acceptance of the badge in Credly by clicking the Login to Save and Share button.
You may visit your Credly account at any time using the following URL: https://credly.com/
Click on the name of any badge in the Earned tab to see details on the performance it represents.
Credly allows you to decide which badges to make public or hidden. You can also organize your badges using the "Categories" area.

If you have any questions about the badging process, please send an email to kelvin@ucf.edu.